There is program of festival 2018.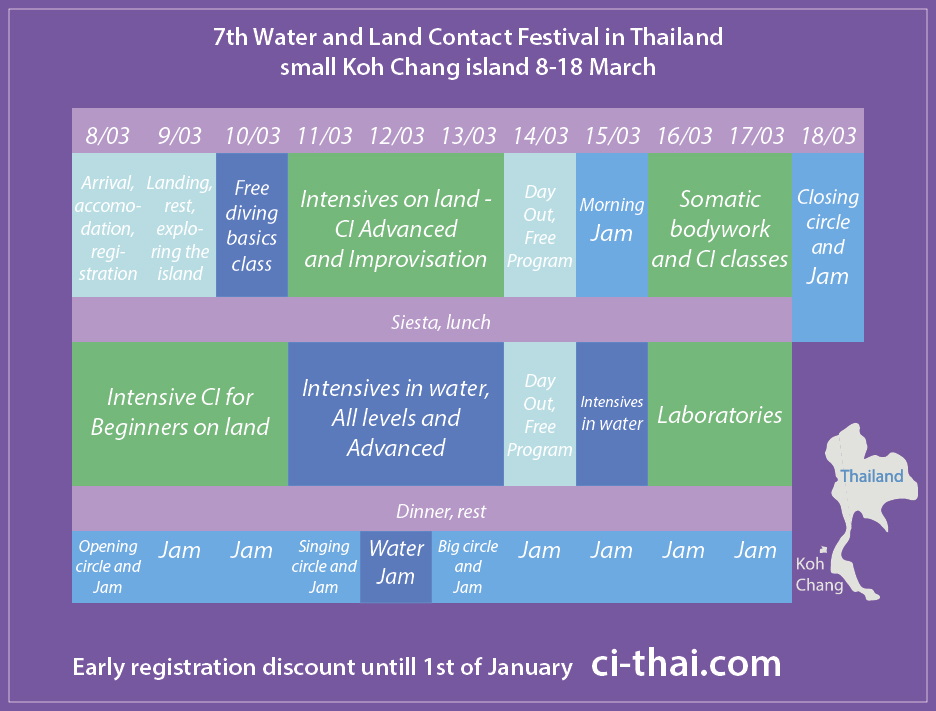 Intensives
8-10 March
Anastasia Saevich (Russia)
Intensive CI for beginners:"The center of my Universe"

10 March
Kirill Popov (Russia)
Freediving class
11-13 March
Katya Basalaeva (Russia)
CI classes

11-13 March
Ulli Wittemann (Germany)
CI Intensive for intermediate and advanced levels
11-15 March
Sasha Bezrodnova (Russia) & Mario Blanco Martinez (Spain-Argentina).
Intensive of Contact Improvisation in water for beginners and all levels: "Waves of Tenderness"
11-15 March
Gabriel Sydänvirta (Finland) & ElinMaria Andersson (Finland, Sveden)
Water intensive for intermediate/advanced level "DYNAMIC FLOW"
Contact Improvisation in the water with Aguahara, Aquatic Bodywork and somatic explorations.
16-17 March
Michal Ratajski (Poland)
"Manipulation as a way to creation"

16-17 March
Maria Grudskaya (Russia)
Somatic Bodywork