We recommend participants to come not only for the festival itself but to stay in this amazing country for a longer time. You can plan your trip beforehand of find travel-mates at the festival. For the information about Thailand we recommend Lonely Planet travel guide.
Further follows a short list attractions that you can explore before or after the festival.
Thai Massage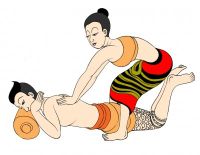 Thai massage appeared 2500 years ago. It is based on working with energetic lines of the person. It is a lot like bodywork. Though better to say that in some bodyworks we use the technique of Thai massage.
In Thailand there are two schools of massage: Southern and Northern. Southern is represented by Wat Po Temple in Bangkok.
You can find schedule of the courses and sighn up on the website. Wat Po school is one of the most recognized (this of course affects the price).
Northern school is represented by Chiangmai. Here is the list of most famous schools in Chiangmai:
The prices in Chiangmai are lower (schools in the list are arranged from the lowest price to the highest). It is a longer way to the North than to Bangkok, but if you decide to travel to the North you won't regret it. There is a very nice atmosphere, beautiful mountainous nature and plenty of interesting places from amazing temples to caves and waterfalls.
Vipassana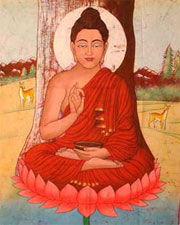 The word "vipassana" in ancient Indian language pali means "to see the reality the way it is". Vipassana is one of the most ancient techniques of meditation. It appeared in India more that 2500 years ago as a universal remedy for all problems, as a way of life.
This is an official list of Vipassana centers in Thailand.
You need to register in advance. The technique is tought in Thai and English.
Bangkok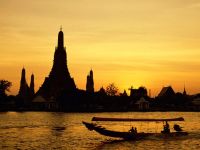 We recommend to visit the capital of Thailand – Bangkok. Most convenient time is upon arrival (if you come a few days earlier before the festival) or before departure. The transport system of Thailand is very convenient, the airport is 30 min by metro from the center of the city.
Bangkok is a modern city, full of ancient and modern attractions from the royal palace and Buddhist temples to the skyscrapers of famous Kaosan Road. You can devote several days to explore this remarkable city.
There is contact improvisation community in Bangkok. You can contact them through Facebook Group.
Ranong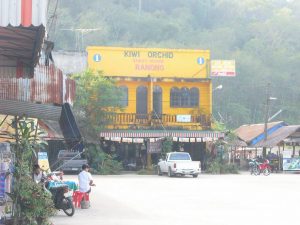 Ranong is a small town, center of Ranong province. This is not the most popular place for foreign tourists, they mostly come there for a visa run to Burma. Nevertheless, it is worth to stay here for a couple of days before or after the festival.
Near the center there is a park with hot springs Raksavarin. The entrance is free, working hours 5 a.m. to 9 p.m. The water in the swimming pools is quite hot, it is better to come in the evening when it cools down a little. Bring swimming suits and towels. Coordinates: 9.958619, 98.651118
Namtok Ngao National Park is situated on the territory of two provinces – Ranong and Chumphon. Here you can rent a bungalow, visit several waterfalls, hot springs, take a walk on jungle paths. Coordinates: 9.856276, 98.627305
The hills Phu Khao Ya resemble fields of Switzerland or New Zealand: small green hills with no trees. From the highest point you can enjoy the view of the rural area of Ranong and Ngao waterfall. Coordinates: 9.867505, 98.618304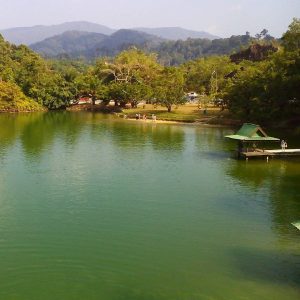 In just a few kilometers from the town there is a picturesque lake at former tin mines called Kanyon Ranong. Local people favor this place for outdoor picnics. Coordinates: 9.934877, 98.685808
In 35 kilometers from the town center there is a mountain Khao Fa Chi, beautiful views of Kraburi river and Burma open from there. A small one-way road leads to the Viewing point, which is situated 259 meters above the sea level. Coordinates: 10.189103, 98.713889
On the way to Khao Fa Chi there is a Punyaban waterfall 20 meters high. It is near the highway 4. Popular place among the locals to get nice rest on a hot day. Coordinates: 10.065023, 98.669977
If you wish to visit other islands besides Koh Chang, you can go to a near-by Koh Phayam. It is a lot like Koh Chang, but more touristic and with more developed infrastructure. You can get there from Ranong pier or straight from Koh Chang.
Also, relatively close to Ranong interesting national parks are situated – Laem Son National Park and Khao Sok National Park, lake Cheo Lan with Ratchaprapha dam etc.
Surin islands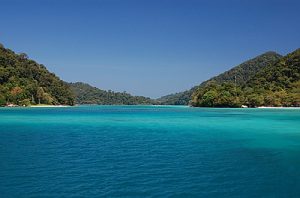 Surin National Park (Mu Ko Surin) is situated in the Northern part of Andaman sea close to Burma border. The distance to Surin islands to the main land is 60 km. There are five islands, two bigger ones – Ko Surin Nua and Ko Surin Tai – and three smaller ones.
Surin is a perfect place for snorkeling and freediving, this is the main reason tourists come here. Besides, it is a beautiful place, nice for walking, sun bathing, resting from civilization.
You can get there from the pier of Kuraburi town, there is a regular boat to Surin. From November to April it takes 4 hours to get to the islands.