ULLI WITTEMANN (GERMANY)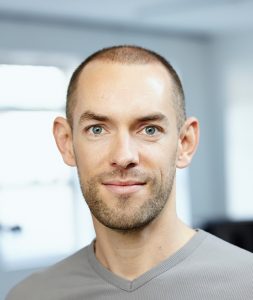 A passion for movement and growth has drawn Ulli to new directions since he was a child.
From practising Ballroom Dance and Hip Hop as a teenager and many years of studying different Martial Arts forms (Judo, Aikido, Kickboxing and Boxing) he finally fell in love with Contact Improvisation in 2001 during his actors studies at the University of Performing Arts in Frankfurt, Germany. After eight years of performing more than 1000 shows as an actor in the German State Theater system he decided to change his focus from performing to sharing his ideas in Contact Improvisation, Acting, Awareness and Communication in Munich and abroad.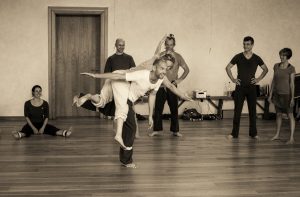 In the last years he taught intensives, workshops, classes and retreats in India, Thailand, Israel, Palestine, USA, Turkey and many European Countries. He is one of the founders and organizers of the Tempelhof Contact Festival in Germany and the Conscious Flow Festival in India and co-organized two editions of the Touch & Play Festival. The inspiration coming from nature, Buddhism, travelling and authentic human relations are a significant part of his personal journey and his teaching.
"For me a good class consists of the sensation of growth of every individual and the joy of the collective experience."
---
MICHAL RATAJSKI (POLAND)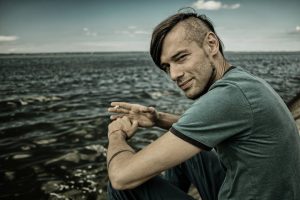 – performer, dancer, choreographer, teacher, he moves.
Passionate about video dance, martial arts and contact improvisation.
Founder of Dance Theatre KIJO. Organizer of FRU Festival. Co-founder of Contact Improvisation Academy – AKI. Lecturer School of Theatre and Drama – STA. Collaborates of Pinokio Theatre and CHOREA Theatre. The most learns by sharing knowledge with others. Actively involved in numerous training and international festivals, learning by teaching. His work is based on curiosity.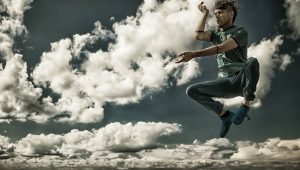 Curiosity of meetings, experiences, knowledge and its new dimensions arising from a new: people, situations, impulses, coincidences. Every day he learns how to open up to new experiences, because that develops us the most. Simply: many years ago, I quit my job in a corporation and redirected energy to the dance theater field. So that getting up in the morning I know that I`m doing what I`m living for. I`m freshly baked enthusiast of the moment. I breathe, I live, I am. 
www.vimeo.com/frufestival
www.vimeo.com/kijo
www.kijogroup.com
---
MASHA GRUDSKAYA (RUSSIA)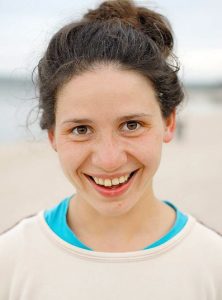 Maria Grudskaya (Moscow) –  somatic therapist, teacher of contact and dance/movement improvisation, performer.
IBMT Somatic Therapist, graduated Institute of Intergative Bodywork and Movement Therapy Program (ISMETA-certified program directed by Linda Hartley, UK). IBMT includes Body-Mind Centering ®, Authentic Movement and Somatic Psychology (ibmt.co.uk). In her practice she also used elements of Bartenieff Fundamentals, Laban Analysis, Feldenkraiz Method. Coordinator of IBMT Russia ibmt-russia.ru.
Has been dancing CI since 2003, teacher of Moscow Center of CI (contactimprovisation.ru), teaches in Russia and other countries.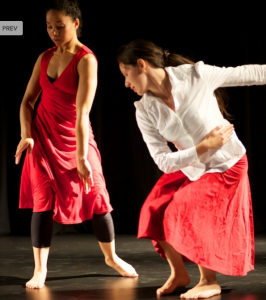 Participates in performance projects in collaboration with dancers, musicians, painters, worked with TabulaDanza dance theater company, with choreographers Steve Batts (UK), Benno Voorham (Sweden) and others.
Maria is inspired by dance and movement in water – its beauty as an art form and its potential for somatic therapy.
Maria is an organizer and teacher of Russian and international CI festivals: Winter Festival in Moscow Region, Festival of CI and Water Dance in Thailand "Catch the Wave" (ci-thai.com), CI Festival on Ladoga Lake in Karelia (ladoga-dance.ru).
---
ALEXANDRA BEZRODNOVA (RUSSIA)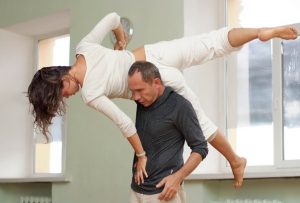 By education I am a social psychologist. In last years CI has become my main interest and direction in life, which I am very happy about. I practice CI and Authentic Movement since 2002, teach regular classes in improvisation and performance group in Praktika thatre in Moscow, as well as jams, labs, workshops for beginners and advances in different cities and countries. I participated in performance projects with Steve Batts, Karl Frost, Konstantinos Mokhos, Andrey Andrianov.  I am happy to be a part of Moscow Festival team.
Themes and focuses interesting to m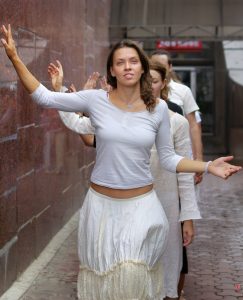 e now are:
• Anatomical and structural fundamentals of movement
• Evolutional patterns and animal movement in CI
• CI for parents and kids, CI for kids with special development
• CI on the lawn, on the sand, in the water, on the stones…..
Teachers who influenced on my vision of CI are Andgela Dony, Steve Batts, Natanja Den Boeft, K J Holmes, Danny Lepkoff, Nita Little and Arye Burstein.
---
ANASTASIA SAEVICH (RUSSIA)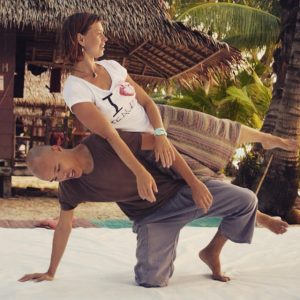 I dance CI since 2007. CI changed my whole life, I met my husband in CI community, and now we have two sons and we all dance together 🙂
I teach classes and workshops in CI, somatic movement, Authentic Movement. I develop my approach "Authentic way of witnessing kids".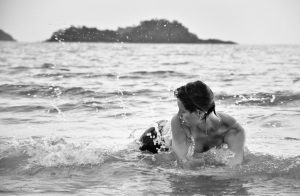 Organizer of CI festivals at Ladoga lake, Thailand, Saint-Petersburg.
Dance-movement therapist, graduated IBMT Somatic Movement Program.
---
KATYA BASALAEVA (RUSSIA)
dancer, performer, CI teacher, organizer of art and educational projects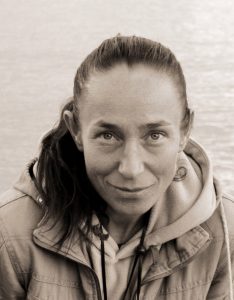 Since 1998 founder and dancer at "Vampiter" dance theatre company. Since 2001 organizer of educational projects in contemporary dance, contact improvisation and performance, among which «Art of Contact», where she teaches regular classes, seminars and lectures. Founder and participant of a performance project "System of digits" (performances, video-art, multimedia). Since 2002 teaches CI, contemporary dance and performance in Novosibirsk and other cities/countries.
2009-2017 organizer of CI Festival in Altay.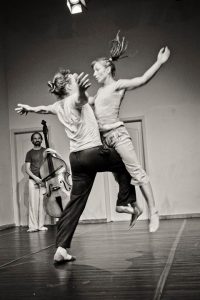 "At present I continue to learn, practice and teach CI.
For me CI and performance are the most interesting way of being in dialogue with the world, and also a good base for exploration and development of body and mind.
My interest is to integrate in CI different practices of body and movement exploration. I find big inspiration in ideokinesis, axis syllabus, martial arts, rock climbing, contemporary dance and performative practices.
Teaching for me is a priceless experience of communication. It clarifies, specifies and transforms knowledge and experience, shows their relevance and sustainability, creates environment for change."
---
MARIO BLANCO MARTINEZ (SPAIN – ARGENTINA)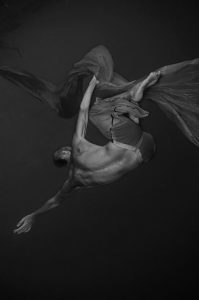 I come from a Yoga background, practiced and teached Yoga for some time so I got used to steadiness and stillness in order to recognise body and mind states. Later I studied Zen Shiatsu, I realised how soft touch, reflective listening and attentive contemplation makes body and mind reveal.
I got into CI in Argentina, mostly in the National Arts Institute (IUNA) and with the Contemplative Dance Laboratory, regularly dancing and performing. I was so lucky to met CI in a place where festivals, meetings and events were going on all the time, Buenos Aires, Rosario, Córdoba, Brasil, Uruguay, Chile. I see CI as a free and beautiful way to go into dance and movement, for sure brought those qualities to me. Maybe for the previous imprints, I also find in CI an amazing way to know about myself and others and at the same time to open attention to the enormous surrounding.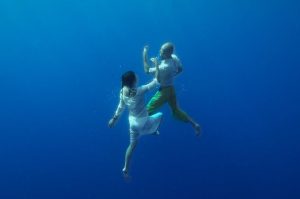 I don`t see water as a different element of the world, instead I see it as another dimensión, in wich it`s needed to learn everything new. I notice I can barely rely on my usual senses for spacial information, since they are totally distorted. On the other hand different inner sensations seem to get stronger and clearer, the diaphragm, the organs. And touch, it`s such an extraordinary event in that water homogeneity.
I believe Dance is an amazing vehicle for exploring this water dimension and at the same time water is an amazing place for exploring dance. In this Water/Dance/Sense exploration I`m excited just by thinking in the overwhelming possibilities.
---
GABRIEL SYDÄNVIRTA (FINLAND) 
dancer, teacher of dance, CI and AguaHara, organizer of dance and healing events, multicultural educator, traveller, sailor and poet.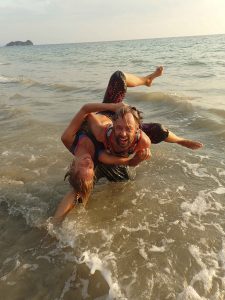 For me to dance is to be alive, to enjoy a moving body, to connect in the presence and to explore and co-create with the world. In dance I am interested in the sensation of flow and the abundance of the movement possibilities.
I´m deeply fascinated by creative power and healing quality of dance and movement. It just feel so good to dance! When I discovered combination of aquatic dance, aquatic bodywork and Contact Improvisation I felt I have arrived home.
In a dance I love to
…fly high and dive deep.
…go wild and stay calm.
…surrender and let go.
…breathe and wait.
…jump and see what happen.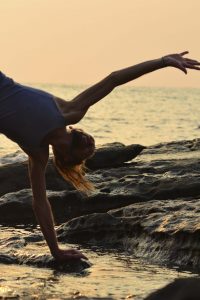 Nature and especially water plays an important role in my life. I teach Aguahara, give an aguatic sessions, life part-time in an old sailing boat in the Sea of Archipelago in Finland and take my drinking water from the nature. Almost daily I learn something new from water.
I´m a dancing nomad, a travelling artist. Since 2004 I have worked as a community artist in 70 countries and since 2012 I have taught Contact Improvisation, aquatic dance and AguaHara in Europe and Asia. As a traveler I have had a great opportunity to study and dance with many wonderful teachers around the world. In addition I studied new dance, improvisation and performance at the dance school of Bewegungs-art in Freiburg and Contact Improvisation at TanzFabrik in Berlin, Germany. I teach and organize events, courses and journeys with CI, AguaHara, dance in water, improvisation, somatic and dancing in the nature with the name MovingHeart.
More: https://www.facebook.com/MovingHeart.DanceArt/
---
ELINMARIA ANDERSSON (FINLAND)
Community Dance Artist; teacher of dance improvisation, CI and dance in the nature. Aquatic bodyworker and sailor.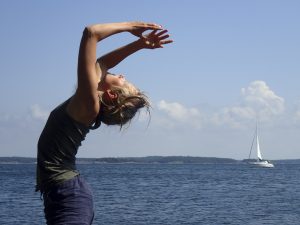 Dancing is my arriving home. I am a somatic practitioner and
movement explorer, curious to find ways of sharing connection through movement and to create a safe space to surrender to the dance. Dancing in the water allows me a place beyond words where I'm touched by the simplicity of just being. I love to play effortless with all the direction my movement can go, pouring into the weightlessness, allowing breath to wait, reaching out and expanding inside. In the water I get involved with another way to relate to myself, nature, others and life.
Sea is a big part of my life. In the summer I live on my old sailing-boat and bring dance to the amazing Finnish archipelago. Last winter's I spend in the warm waters of Andaman Sea, Thailand. I'm a practitioner of Aguahara, aquatic dance and bodywork. I teach and organize journeys with contact improvisation, community dance, dancing in the nature and Aguahara with the name Moving Heart.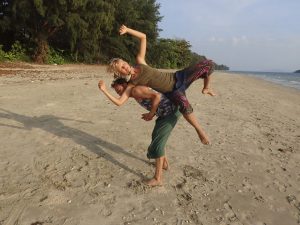 Past the years I have been deepening my curiosity of how dance can be influenced by different pedagogical views such as Norm Creative Pedagogy and dance laboratories with different body-abilities, cultural backgrounds, ages and experiences. Last ten years I have brought community dance and instant composition in different projects and locations; for mixed abilities, teenagers, children, teachers in the school, refugee centers, in the elderly care as well as in the dancing school.
More: https://www.facebook.com/MovingHeart.DanceArt/
---
KIRILL POPOV (RUSSIA)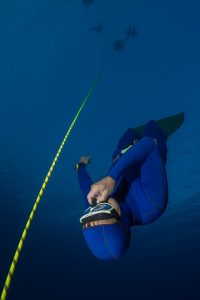 Since childhood my relationships with water haven't worked well. I grew up in the region of semideserts, with no place to swim, so it was quite late when I learnt to swim, or rather to float in water.
Then contact improvisation came into my life, after that – diving, and later – freediving, and CI in water as a blend of all these things.
I was driven by freediving so quickly and strongly, that it has been the main occupation in my life for four years already. My relationships with water are so close that I can't imagine my life without the sea.
At first I learnt to dive. 20 metres, 30, 40,… After, I learnt to swim well and now I am keen on taking long swims for several kilometers in open water.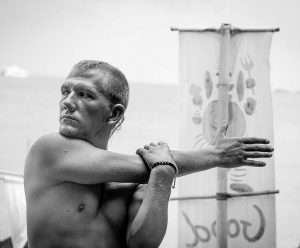 I am constantly moving to different countries and continents in search of new exciting places for freediving.
Immersing along coral walls; diving with graceful manta rays; swimming with whale sharks; practicing deep water dives, when you see only the rope passing by; dynamic and static apnea…
Freediving is very diverse!
Everyone can dive! And everyone can find his/her interest in all this diversity.
Freediving is a fascinating world and I want to help others to enter into this world.