8-12 March
Yana Sutina&Kirill Popov
Intensive of Contact Improvisation in water for all levels: "Back to the roots"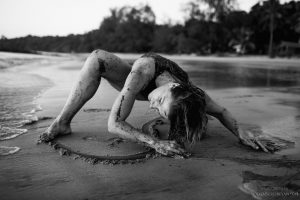 When I am in water, what matters? What questions arise when I move in water together with a partner? What nuances come to light in the sea environment? What comes to my mind in response to these questions: breathing, continuity, flowing, connection of center and periphery.
When I try to describe the bodily experiences I want to share at the classes, I realize that this is not new information for the body. The body already knows everything. It can move and live in water. It just can be reminded of what it knows. It can be brought back to the roots.
We will practice relaxation and release tension.
Take the water experience to the land.
Focus attention on the technique of how to move the partner in water in an efficient and safe way, offering gentle support and a sense of comfort and holding.
We will breathe and not breathe, observe inhales and exhales and space in between. Notice how it affects our movement in water and our state of mind.
We will become ocean creatures engaging patterns of movement most useful for moving in water, on the bottom of the ocean, on the line between water and land, and probably we turn back evolution and return to our oceanic roots.