10 Мarch
Kirill Popov (Russia)
Freediving class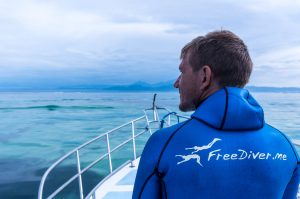 Freediving is a dream of flying that comes true! Hold your breath, dive under water – and you can move in any direction. You can find effortless movement and enjoy your presence in the moment here and now.
Water is a natural environment for a human being, our body has evolutional knowledge of how to exist in water. And freediving is one of the best ways to make water your friend, if you have any fears of this element, or strengthen your connection with water. The skills and experience you'll get at the workshop will help you to interact with water in a more soft and conscious way and this will be a good foundation for dancing in water.
We'll study the basic theory of freediving to thoroughly prepare or understanding of the practice: pressure, physiology of breathing and immersion while holding your breath, mammalian diving reflex etc.
Our practice on land will include yoga, breathing exercises and release techniques.
Our practice in water will take place in shallow water on the beach. It will be static apnoe (holding breath for a certain time).
Deep immersions are not included in this workshop!