10-12 March

David Leung (Hong Kong)
CI Intensive for all levels: "Distance and intimacy" – a re-initiation into the depths of contact improvisation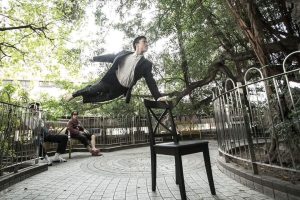 Having practiced the art of contact improvisation (CI) for 23 years, recently I quite enjoy being at a distance from it every now and then. Movement practice is the keystone of my daily living, yet I do not always have the luxury to be "doing CI properly" with the people around me. When I was younger, I used to crave that "CI touch" when I was around my dance folks: "gotta get more practice in!" for me that meant I was a good, zealous and worthwhile member of the CI family.
Perhaps it was the wisdom one acquires from being immersed long enough (and it probably has something to do with happenstances), the gravitation toward appreciating that distance from what I love to do so much has allowed me to embody one important lesson: distance and intimacy are two sides of the same coin; the more I understand one, the more I can comprehend the other.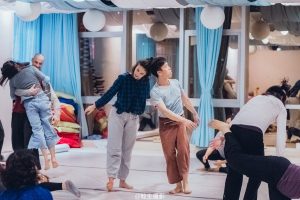 As intimate as one maybe to oneself, there can often be misunderstandings and misgivings. I see this as a space for learning and personal growth. The fact that the questions, "who am I", along with many that unfold along the way, can bear more answer than one, dependent upon the situation and happenstances, has become a fascinating way to re-initiate myself into the otherwise repetitive, "almost-certain", "been-there-done-that" kind of existence which for me kills the joy of the practice.
"Who am I in this particular dance that we are having right now?"
"Am I the leader or the follower in this dance?"
"As I am lifting someone, should I be 'more active'?"
"What does 'relaxing into the movement/dance' mean?"
"Who am I dancing in this body right now?"
If you also have questions that emerge throughout your practice, and are willing to allow the state of "having no certain answer" re-initiate you back into the freshness of the practice, I sincerely invite you to join us, as we share the practice from the proposition of "distance and intimacy".
The preparatory exercises I will share with you come from an amalgamation of "eastern and western" practices that have happened to me over the past twenty-odd years as a dancer and movement researcher. These include but are not limited to the methodologies from Joseph Pilates, Juliu Horvath(Gyrotonic Expansion System®), Bonnie Bainbridge Cohen(Body Mind Centering®), Moshe Feldenkrais/Ruthy Alon, Tai Kung Ching(Sui-yi qigong), along with many dance/movement masters whom I am thankful to have met along the way.
I share these exercises from the lens of somatics, in which I re-examine my physical existence using an active consciousness to observe and learn from my own movement journey.