5-7 Мarch

Davi Rhein
"Flying Together" Contact Improvisation Foundational Techniques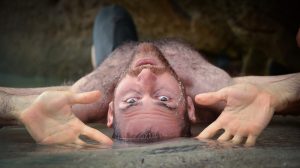 We have three days in the very beginning of the festival to arrive to land, water
Hi friends, I am excited to announce that I am offering a 3-day CI Intensive for beginners and all levels. CI is a free-flowing exploration of movement, physics, and connection. To explore with full freedom and safety, there is a necessary foundation of technical skills and communication. As with any creative art form, techniques provide the foundation upon which creativity can flow. Thus, my focus in this workshop is to offer technical exercises, including demonstration and corrections, as you would experience in a martial arts or yoga class. Later, building upon these foundations, you will be empowered to move confidently into somatic explorations of concepts, themes, and create movement poetry together.
The fundamental principles of contact improvisation include rolling point of contact, sharing weight, falling safely, and non-verbal communication. From these foundations we can access a form of flowing partner acrobatics that is exciting, liberating, and often therapeutic.  Our focus will be on specific aspects of alignment, including footwork, proper spiraling technique, and concepts from physics such as vectors, density, and convexity.
Contact Improv can also serve as a profound metaphor for relationship and communication in other areas of life, revealing unconscious beliefs and movement patterns, and empowering us to rise beyond them.
I will infuse this 3-day intensive with the energy of playfulness, which for me is core to the practice of CI. While the program is designed to be accessible to total beginners, more experienced contact dancers will also benefit from technical distinctions that make basing and flying easier and safer.