Koh Chang Island
The Festival takes place on Koh Chang Island, Ranong Province. Please, note that this is a different island, not the big Koh Chang near Kambodia's border which is more famous.
Koh Chang is situated on the Western coast of Thailand in the Andaman Sea. You can read how to get to the island here.
It is an amazingly quiet place – there are no big hotels, no cars, no traffic, no shopping centers or other signs of civilization. Here you can enjoy authentic nature, sea with awesome luminescent plankton, toucans and other birds, black and white sand, and plantations of rubber and cashew trees.
Electricity works in the evenings from 18:00 till 23:00. In the Festival Guest House there is internet access, but limited, only enough to check e-mail.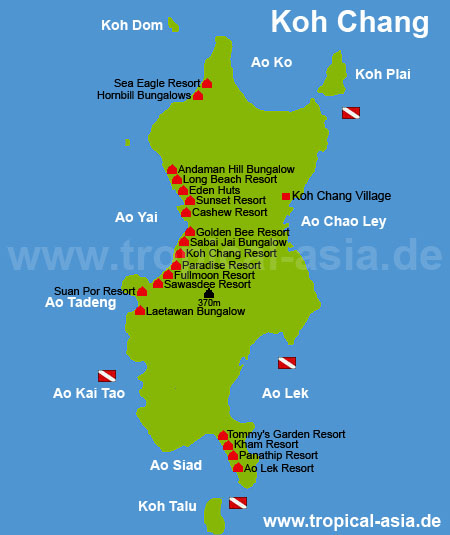 There are couple of food and fruit shops on the island, but they are quite small. So, if you need anything special, it is better to bring it with you from the big land. You can find everything you need in Tesco Lotus supermarket in Ranong.
There are cafes in all guest houses, where you will find nice and affordable food. The cost of the meal is from 1,5$. If you want to cook your own food, take a gas burner. Gas cylinders are available at the shops on big land, you might need an adapter.
Koh Chang is a small island, you can walk around it in few hours. There is almost no transport there, only few motorbikes.
Festival will take place on the Western beach Ao Yai in Cashew Resort.
The Festival will take place on the west beach Ao Yai in Cashew Resort.
All accomodation options are there.