MINORI NAGAI & RYUHEI UEMOTO (JAPAN)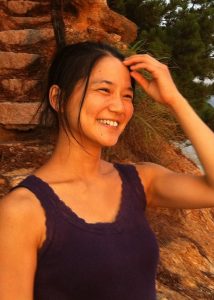 Minori met CI during her study in BA dance degree at Middlesex University in U.K. After coming back to Japan, she participated in CI festival in Tokyo organized by C.I.N.N. in 2007 and became a member to support its annual festival in 2008.
Ryuhei got to know CI in the process of learning contemporary dance in Japan. Ryuhei founded AAPA as an experiments performing arts project based on our dairy life in 2004, and Minori joined AAPA as a dancer in
2007.
For us, CI is a good practice for sensitive "listening" state to the body through physical experience without judging right or wrong in the head.
In 2013, we opened "Hinodecho Danchi Studio" in Tokyo, aiming at creating a space where anyone can come and deepen their own body and dance regardless of dance carrier. We teach regular improvisation classes and CI workshops as well as organizing various workshop from different disciplines such as martial arts, mask and juggling. We have been invited to "Asia Pacific Impro! 2" in Malaysia in 2015, and CI festival in China in 2018.
Links:
Hinodecho Danchi Studio http://minori.aapa.jp/
AAPA http://aapa.jp
AAPA Facebook https://www.facebook.com/AAPA.jp/
C.I.N.N. http://contactimprov-nn.com/