11-15 March
Gabriel Sydänvirta (Finland) & ElinMaria Andersson (Finland, Sveden)
Water intensive for intermediate/advanced level "DYNAMIC FLOW"
Contact Improvisation in the water with Aguahara, Aquatic Bodywork and somatic explorations.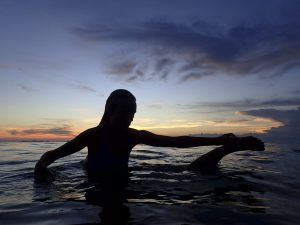 We'll tune in to the wavelike rhythms of our embodied fluids and the breath, the flow between activating directions for movement and the art of receptive waiting, sensations of breathing trough the cells and receiving the empty space in between.
Aguahara is an aquatic bodywork where we soften our mind and tissues, give space for deep relaxation and contemplation where we tune in to the sea and each other. We will explore our anatomical understanding of how the body moves in the water and deepen our trust and calmness under water. When we surrender a sense of easy arrives in dance. We increase our understanding of how we can maintain the softness and simultaneously being alive and attentive with the dance. We will explore the change of active and receptive in a duo as well trio-work.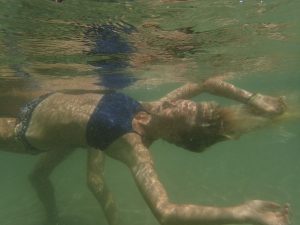 Prepare yourself for surprises as well exploring the multidimensional possibilities of movement under the water. Surrender to the ongoing dynamics of change in direction, activation and stillness, aquatic bodysurfing and let go for a ride on the wave.
Previous experience of aquatic dance or aquatic bodywork needed.